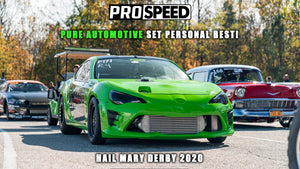 Pure Automotive Enters 6 Second Territory at The Hail Mary Derby
Pure Automotive ran their Green 2JZ FRS at The Hail Mary Derby this year! Prospeed provided track support for Pure Automotive handling the tuning.
We didn't nail the launch on the first few runs but were able to gather a lot of data on how the car was performing. After that, we had some good runs! By the end of the night on Sunday, Pure Automotive staged up and ran a 6.89!
---