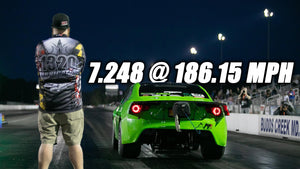 Pure Automotive Are On Their Way to the 6s
Pure Automotive Performance Swapped FRS
Pure automotive performance did a 2JZ swap on their Scion FRS. It is a 3.2L 2JZ GTE Roche racing build with an ATF speed TH400 transmission. We came in and programmed it all to work with our Prospeed Motec ProDrag package! We put the car at about 1500 hp and went testing!
Maryland International Raceway
We arrive at Maryland International Raceway for a great evening of testing. The car made six passes and set a 7.248 in the quarter-mile at 186.15 MPH. It was a great evening of progress and set a new personal best for the Pure team!
---