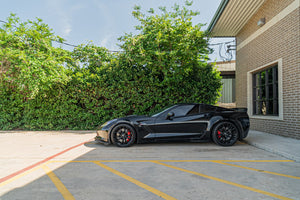 Callaway C7 Corvette
Prospeed recently was sent this Chevrolet Corvette Callaway Z06 3LZ. There are two different packages, the SC627, and the SC757. Both of these packages come with features like:
Callaway Carbon Engine Covers with SC627, SC757 Emblems
Callaway High Flow Intake System
Callaway Embroidered Floor Mats
Callaway Door Sill Panels
Exterior and Interior Callaway Badging
Callaway Underhood Plaque with Vehicle Identification Number
Callaway Key Fobs
Callaway Corvette Authenticity Documentation Package
3 Year/36,000 Mile Limited Warranty
SC757
This one is the SC757 package which has:
Engine Displacement – 6.2L/376 cu. in.
Maximum Power – 757 hp @ 6500 rpm (SAE)
Maximum Torque – 777 lb-ft @ 4500 rpm (SAE)
0 to 60 mph – 2.8 seconds
1/4 Mile ET/Speed – 10.5 seconds @ 131 mph
Race Alignment
A proper race alignment can significantly improve the performance of you vehicle. 
Alignments rank at the very beginning of the list. Why? Because when your alignment is not what it should be, nothing will compensate for it. The alignment package has a tremendous influence on the way a race car handles.
Along with the knowledge of the importance of alignment has come better equipment that we can use to check and adjust our race car so that it's aligned perfectly. The reason for the onslaught of interest in this issue is because car builders have finally bought into the importance of roll centers, setup balance, Ackermann issues, and alignment. The manufacturers of race car parts have now included in their inventory tools that help us align our race cars more accurately and quickly. We're going to show you some advanced systems available for the short-track racer.
Fuel Pump and Tune
---