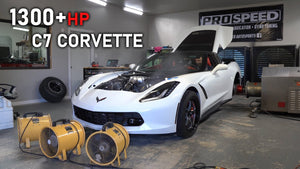 1300 HP Corvette C7 | Dyno Tuning
We dyno tuned the Prospeed Corvette C7 to make a 1300+ Horsepower!
The car features our:
Prospeed mid-mount twin-turbo system
RPM TH400 conversion and 9"
Motec M1 ProDrag system
Motec M1 ProDrag System
Our Motec M1 ProDrag System that is shown here is the Motec M182 package for the C7 Corvette. Some of the features of the Motec M182 include:
Small and light in a robust magnesium enclosure
Port injection injector type
Large logging memory
Latest generation high-performance processor
Customizable configuration (see separate section)
Customizable firmware / functionality
Suitable for modern engines with DBW, Cam control, and a CAN bus.
Advanced logging features, high speed, multiple logs (with access logins), I/O expansion, Pro Analysis
Flexible tuning software
Robust and comprehensive security features (see separate section)
Programmable injector drive characteristics
Programmable digital input system for Ref/Sync, wheel speeds etc.
Programmable trigger levels, diagnostics
All Low Side and Half-Bridge outputs have PWM capability
Prospeed Autosports is the premier dealer of Motec ECU's for Texas and has master dealer status. Prospeed Autosports are masters of Motorsports wiring and have years of combined experience. MoTeC's professional, race-grade electronics are sophisticated and therefore it is highly recommended that installation is performed by a professional installer. It is NOT advised for the average installer. An advanced understanding of electrical systems is necessary. Prospeed Autosports will support all sales and also offers professional-grade wiring harnesses and installation services for all applications. We have 20+ years of professional race experience based upon MoTeC control and specialize in Power train, Chassis, Drivetrain, and Data programming both at our facilities, onsite customer dyno/track support, or even remote support. Please remember that if you cannot find the time or finances to do the job right the first time, you will ultimately end up looking for time or funds to do it over again. Select us or find a qualified installer, it will ultimately increase your results and minimize future expenses or downtime related to improper setup or installation.
---